This program will help to increase your capacity to communicate more effectively.
Have you ever attended an executive preview and come away feeling like the target of a marketing campaign? You gave your valuable time but learned nothing?
Our Executive Briefing is designed to quickly overview the course content for DialogueWORKS: Collaborating for Results. Then we go to work on REAL issues and teach and practice skills that are immediately applicable to all of your conversations.
What Keeps You Up At Night?
Are you challenged by the following conversational issues?
Teams that just can't seem to work together.
Recurring inefficiency that shows up as violated expectations and lack of accountability.
Inability or unwillingness to provide needed feedback.
"Hot" or emotional reaction, blame, or wild assumptions instead of results.
Lack of candor and openness in discussing what matters most.
Diminishing respect and trust for individuals, teams, and/or management.
If you face any or all of these challenges, we can help.
This short program is designed to provide an overview of DialogueWORKS: Collaborating for Results® while providing a number of skills to immediately impact your interpersonal communication effectiveness.
Key Course Objectives
The content is geared at heightening your awareness of your conversations' effectiveness in achieving desired results.
You can expect this experience to develop the following practical skills: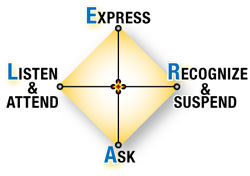 Understand the source of your conversational deficiencies through self-assessment.
Recognize the source of incomplete and inaccurate thinking that drive blame and a lack of accountability.
Learn to recognize and defuse "hot" or emotional reaction by uncovering unconscious assumptions.
Clarify intent for more focused outcomes.
Learn and apply a simple framework for providing feedback that ensures improved performance and increased accountability.
Learning Process
The learning process involves group discussion, personal application of theory to specific skills, self-assessment, REAL role-play, and video examples. Participants are expected to complete a pre-work assignment which serves as a focus for their learning during the course of the workshop.
Who Should Attend?
Anyone who is interested in improving their communication skills will be glad they invested a few hours in this rewarding experience. This preview is generally offered in a public forum or internally for any organization that desires to experience the content for evaluation purposes.
Course Length
½ day, either during the morning or the afternoon. Can also be presented LIVE, ONLINE.
What's Next?
To learn how you might attend an Executive Preview or bring this program into your organization for evaluation, call 1-801-491-5010 or email us at info@dialogueworks.com.